Our Sandy Sunshine
Sandy the Sheltie was 10 years old when she came to bless our family. Her gait was sprightly and so was her spirit. By David & Debbie Cochener.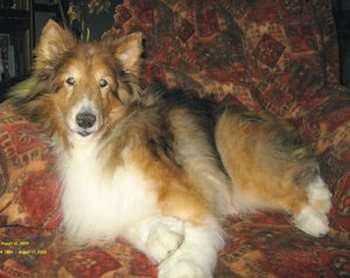 Sandy was 10 years old when she came to bless our family. Her gait was sprightly and so was her spirit.
If left to her own devices she could drag the toilet paper from the roll through the entire house - or until the paper tore, whichever came first. If the roll was empty, she would munch on the edges of the extra rolls kept in a basket.
Packing a sandwich for lunch took extra precautions because she could find a sandwich in your purse or briefcase in seconds.
Fresh bread was her passion and more than once she managed to get a fresh baguette from the bakery down from the kitchen counter and devour it all by herself. You would think with a passion for bread that she would have a weight problem but she always seemed to know that if she had an overly large snack (ie loaf of bread) that she would need to eat less at the next meal to keep her svelte figure.
Unlike many Shelties, Sandy never knew a stranger. During the holiday season she looked forward to the deliveries from the UPS because while her sister Belle would bark and try to be ferocious, Sandy knew the delivery man always took time to reach over the gate and pet her head. She would welcome anyone at anytime, loving to be stroked and petted and being allowed to snuffle your face. She would gently snuffle your entire face almost as though she was memorizing details. I can still close my eyes and remember the sensation of being "seen" with Sandy's nose.
Sandy loved life to the fullest for 15 years 2 months and 3 days. Blinded by cataracts, she struggled with the pain of arthritis and the difficulties of seizures near the end. However, none of the difficulties of aging affected her sweet temperament and loving ways. Why was she our Sandy Sunshine? Because not only did she adore laying in a sunny patch in the yard, even when she had to be carried there, but because she filled our lives with sunshine every day.
As the song says, Sandy: "You are our sunshine, our only sunshine. You make us happy when skies are gray. You'll never know dear how much we miss you. Please don't take our sunshine away."
By David & Debbie Cochener