Meet Our Singing Shetland Sheepdog Dusty
Our Shetland Sheepdog, Dusty, had the Sheltie singing trait and sang to me every day when I would come home. By Debbie Robillard.
We lost our beloved Dusty, our nine-year-old Blue Merle Sheltie, to Meningitis in August 2010. He lived with hip dysplasia in both hips and was on meds most of his life but never complained.
He had the Sheltie singing trait and sang to me every day when I would come home. He even sang on the way home the day he had his hip surgery... it was amazing.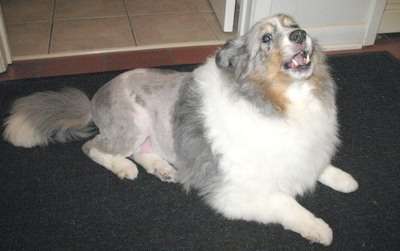 Dusty had his surgery in February 2010 and went to water treadmill therapy for about four months. Up until the day before we had him put to rest he actually met me at the door limping on that leg and smiling for me.
It was the hardest decision I think we ever had to make but his organs started shutting down due to the steroids and all the meds and he wasn't going to recover. I talked to him all the way to the vets and he looked into my eyes as if to say "I understand and it is ok, I am ready to go Mom". I am tearing up as I write this and miss him so much it breaks my heart.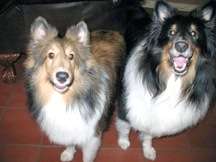 We do have a beautiful girl Chelsey who is nine and she was Dusty's best friend. She grieved for a while and we decided to get her a new companion. His name is Jake and he is eight months old and full of energy and has brought new life into her. They play constantly and he has been wonderful for her and of course us.
We can never replace our Dusty and we do love our other Shelties so much. He would be pleased to see his friend Chelsey playing again. Once a Sheltie owner, always a Sheltie owner.
By Debbie Robillard