Our Little Lady
Our Little Lady has quite a background story before we adopted her, bless her little heart. I found that face and fell in love. By Susan Cox Greenwood.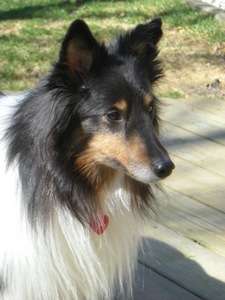 Our Little Lady has quite a background story before we adopted her in January 2010, bless her little heart. I found that face and fell in love online while searching Sheltie Rescue sites from every State around ours, Indiana.
I wanted another black-white-tan (tri) like the one and only Cindeelu who went to the Rainbow Bridge in February of 2009 at age 14. I knew we could not replace that little angel but I always liked the tri-color. We still have Cindeelu's sister, Kate, who is a Blue Merle and still beautiful at 14 now and in pretty good health, always wanting to chase that Frisbee.
Well, Lady was found on the Iowa Sheltie Rescue website. I filled out an application online and after several phone calls with the director, my husband and I were on an adventure in the freezing cold with snow piled a foot deep. We drove to Cedar Rapids, Iowa, from Greenwood, Indiana and back from a Friday night through a Saturday night. All for the love of Shelties!
After 7 months of living in Indiana with a fenced-in yard to run in, she's a Mama's girl. She does not like men and barks my husband in the house and out of the house. The couch is neutral territory and sometimes she jumps up on our bed and lets him pet her. Otherwise in her mind he is big and mean so we feel a man must have mistreated her in the past.
Her background history is one of mistreatment for sure and who, we don't know. We were told she was given as a new puppy to someone's dad who was a widower. He raised her and died when she was 6 years old. Lady was overweight at 30 pounds and unkept with matted hair. The old gent's daughter tried to keep Lady after her Dad died but had two large dogs who chewed up one of Lady's ears and would not let her eat. That daughter gave her to another home and we don't know circumstances there, but that third home did not work out and that's when Lady came to the Iowa Sheltie Rescue at age 8 in December of 2009.
She lived in a foster home in Cedar Rapids with about 4 other dogs and that's where we saw her first online and I fell in love with her face. She was down to 19 pounds and her ear healed but flops in 3 parts. I call it her "Trinity" ear..."Father, Son and Holy Ghost" because it's a miracle those big dogs didn't kill her.
Now, after 7 months, she is learning to accept love and not cower and reject it. She is highly motivated by her leash (I call it her ground wire) and due to past abuse and mistreatment she confuses easily, like perhaps she's a little retarded from being kicked around, poor thing! She is up to 27 pounds and holding, gets all the love and grooming we can muster and her coat is gorgeous again.
She begs me for walks every day and we go except when the humidity is too bad (August in Indiana... phew!) She has always gotten along with our other dog, Kate and she accepts strangers but is always within 5 feet of her new mama. This is her forever home for sure and my husband loves me so much he puts up with her barking at him, referring to it as her "song" when he leaves or returns home.
The end of our Little Lady's story from Indiana. Don't you just love happy endings?
By Susan Cox Greenwood