The Story of Lucky and Chase
The first Sheltie I ever owned arrived mysteriously in my backyard one day. By Julie Smith.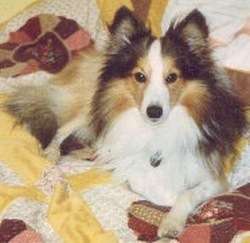 The first Sheltie I ever owned arrived mysteriously in my backyard one day - at the time I was still living at home with my parents...
I was at work and received a phone call from my ex boyfriend who told me that he no longer could take care of his Sheltie puppy and that he had dropped him in the fenced backyard at my parents house. I immediately left work and went home. I ran in the front door and ran downstairs to go out into the backyard... but there in the basement stood the cutest little guy who just captured my heart at first sight.
My parents did not care for my ex boyfriend so I could not tell them where the puppy came from so I acted dumb and said "aww where did he come from?" My parents told me he just arrived mysteriously in the backyard... They weren't dumb and I'm sure they could see through me but regardless they made me go door-to-door in the neighborhood asking if this little guy belonged to anyone. Thank God they all said no!
My parents were leaving for a weekend getaway and told me to find the dog a home while they were gone. We already had two dogs and they didn't want to keep a third. Over that weekend I took the little puppy to the vet for a check up and his shots and just fell head over heels in love with him.
When my parents returned I pleaded with them to let me keep him... my Dad was toying with me and told me no we could not keep him... but secretly my Dad had fallen in love with him too. Over the next few weeks we had several visitors stop in and many of them wanted this cute little guy for their own. I was so worried that my Dad would give him away while I was at work but he was having too much fun with him playing fetch and could not get over how very smart and affectionate he was! Not to mention he got along great with my parents' two Dachshunds.
In the end, I was able to keep this little guy who we named Lucky. I took Lucky everywhere with me... we were inseparable. Then one day I took Lucky over to a friend's house - and I had no idea that the day before they had adopted a Dobermann mix from the shelter. When their dog came up to Lucky, he viciously attacked him. I jumped in the middle and pried Lucky from this dog's mouth getting bit myself several times in the process.
I rushed Lucky to the animal emergency care... he had several puncture wounds and he did not look good. They kept Lucky there overnight - I was a complete mess and was up all night praying to God to please let Lucky live... I kept calling the hospital throughout the night to get updates but I did not receive any promising news - just that Lucky had a punctured lung, broken ribs and that he was in grim condition.
I called again in the morning and when the receptionist put me on hold my heart sank... Then she came back on the line to tell me that Lucky had made it through the night and that he was standing up in his cage...! I cried because I was so relieved. I told my mother and she cried too. We went to pick Lucky up from the hospital and on the ride home he just kept licking the bites I had on my hands from where the other dog bit me.
Lucky had a long healing process but recovered 100%. I was so thankful to the doctor that worked on Lucky - he told me that it was the most vicious attack he had ever seen and that since it was slow at the hospital that night he was able to focus 100% on Lucky. My prayers had been answered. Lucky lived a long healthy life up till he was 15 years old - during that time I got married and moved out to a new home and of course took my li'l Lucky with me.
He was so incredibly smart and could read my every emotion. He was my best friend. As his time got small I knew I had to prepare myself - his eyesight and hearing started to go. I woke up one morning and found him laying on the foyer and he could not get up. I rushed him to my vet, who kept him overnight and told me that his kidneys were failing him and that I was faced with the most difficult decision of my life... to say goodbye to my best friend.
I couldn't bare for him to suffer so the next day, my husband and I went to our vet and spent about an hour with Lucky before we had to say goodbye. For ages afterwards I could barely cope... My heart was broken beyond repair and it was the first time in my life that I did not have a four legged member of my family to fill that void in my heart. I thought about getting another dog and I so longed for another Sheltie... I went and looked at a couple of Sheltie pup litters but could not bring myself to adopt one... I was not ready...
Then one day I saw an ad in the paper saying Sheltie pups for sale. I went to the website and saw the picture of the pups - there was one pup that looked just like Lucky and my heart sank... I made an appointment to go see the pups. I wanted to cancel but finally my husband convinced me to go see the Sheltie pups - it was an hour and half ride away.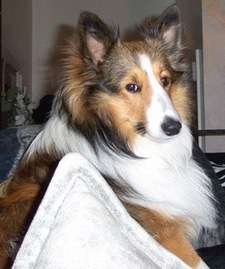 When we got there, the pup that looked like Lucky was just too adorable - but he was too busy playing with his sister to even bother with us! The other litter mates seemed more loving and attentive and my husband really liked one of the other males. But I really had my heart set on the one that looked like Lucky. After about an hour, I finally adopted the pup that looked like Lucky...
On the ride home he slept in my lap. We named the new addition to our family Chase because he loved to play fetch - he was so incredibly smart - within a week he was potty trained.
Then one evening as I was looking over the registry papers for Chase, I was in a state of shock when I saw that Chase had entered this world the same day and time that Lucky had departed this world... It was definitely a sign from above that this little guy was sent to me to heal my heart.
Chase is now 9 years old now and his intelligence just amazes me and everyone that meets him. Chase knows each name of his 50 plus toys. He will bring us the paper, bring me my slippers when I come home from work, even wake the kids up for us! He has brought us so much love and happiness and I never thought I could love like this again. I thank Lucky for introducing me to this amazing breed - and I will never be without my lil Sheltie in my life.
By Julie Smith