Lady Duchess, My Tri Color Sheltie
Living in a mobile home, the search was on for a small dog to keep my husband company while he worked from home. By Estella Guerrero.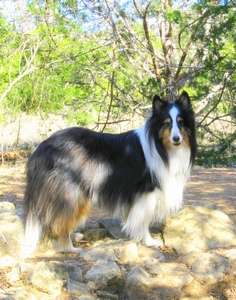 Growing up mostly in Texas, we had a herd of Collies. But now, because we lived in a mobile home, we could not get a dog any bigger than 30 lbs. So the search was on for a smaller, Collie-like dog to keep my husband company while he worked from home. Finally, I found an ad that said Shelties for sale. The breeder told me of her Sheltie puppies including a female Tri Color Sheltie that was the sweetest most lovable thing ever!
So we made a trip out to Dale, Texas, to pick what would be the best companion ever. Being an avid dog lover, I was excited about seeing the puppies. We looked at some Sable Shelties, but I was drawn to the Tri Color Sheltie called Lady Duchess. She was so cute and lovable, we made our decision. Lady Duchess would be a birthday present for my husband (at the time).
The First Night
The day came for us to pick Lady Duchess up from the breeder. Taking her to her new home, Duchess got sick in the car and clung tightly to my shoulder. As we took her inside the house, my husband commented that she might bark. We put her in the master bathroom, in a corner and that was all it took for her to bark at us. Be careful what you ask for I guess!
At night I laid her on a towel with a warm bottle of water and a watch (which they say helps simulate their mother's heartbeat). But she was still too lonely. I finally gave up having her sleep in a box and let her sleep in my bed with me. How could I not love such the cutest Tri Color Sheltie?
Funny Sheltie Habits
During the day, she would lay underneath the desk of her Daddy while he was working from home. Duchess used to scratch on the wall of our mobile home until we discovered pig ears. It was kind of funny when we bought Duchess a dog bed. She tore it up by digging in it as if it were dirt.
As she grew so did her habits. She used to wait till her Daddy would go to the restroom so she could knock over the bottle of beer and drink it off the carpet. Another habit which I believe she picked up from her Daddy was burping. I thought to myself, that's not ladylike! Nonetheless, to this day, she still burps in my face. I tell people that it's her way of saying, "Thanks Mom, that was good!"  As most fur parents do, we took Duchess to basic dog training to teach her how to sit, stay and lay down. Duchess used to get worked up and would run around the house and get on top of the futon like she was at Daytona. I used to call her Duchess Andrete. We introduced Duchess to other dogs at the Dog Parks in Austin. She loved being chased and also loved to play ball.
The Duchess and The Baron
A year later, we adopted her half-brother Baron into our family. They have the same father, but their mothers are sisters. It certainly was an adjustment on both sides. I guess Baron didn't like living under the shadow of his big sister. They had what I would call a love/hate relationship.
They were together till the summer of 2004, when I went my way and he went his. Every once in a while, I go visit Baron when I go to the Valley. When he sees me, he normally runs because he keeps thinking I have Duchess with me.
Flirty Duchess!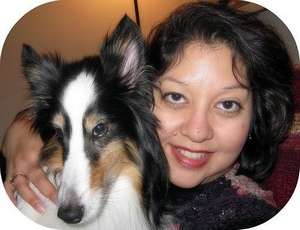 Duchess has another funny habit - she loves to flirt with men! I swear she gets more attention than I do. I can't blame her though, she is a beaut! She can be a little bossy at times when she wants to go outside and for a Sheltie she's very dominant. If she sees a dog shorter than herself, she'll try to hump it. I used to think she was the only female to do that, but I met other Sheltie owners who said I wasn't alone.
I look forward to seeing her when I come home and I miss her when I have to go out of town for more than a couple of days. All these years that Duchess and I have been together I wouldn't have it any other way. She's the best companion I've ever had. I love her as if she were my own child. God Bless her for being a part of my life.
By Estella Guerrero