The Early Years of Howard and Piper
By
Becky Casale
| Download her
Pet Owner's Guide to Shelties
Meet Howard and Piper - the famous dogs of Sheltie Planet - with their silly, funny, fluffy, crazy, noisy Sheltie antics!
Before I met Shelties, I'd always had a strange relationship with dogs.
We'd had a family dog when I was a kid; a sweet little Poodle mix called Penny. But I was also afraid of dogs: their behavior confused and scared me.
Why did dogs wag their tails? Why did they slobber? Why did they jump up at me? Why did they scratch and bite?
At the same time, I thought some dogs were just really beautiful and amazing. I'd watched the Labyrinth a hundred times and wanted an Old English Sheepdog just like Sarah.
Fast-forward 15 years...
I'd just emigrated to New Zealand. My partner Pete and I moved into our first house together. And we finally had the opportunity to get a dog of our own.
I researched lots of dog breeds. Big dogs were out. Too scary, I thought. And too big for our landlord to agree to it.
So a small dog it was. And that led me straight to the magnificent Shetland Sheepdog.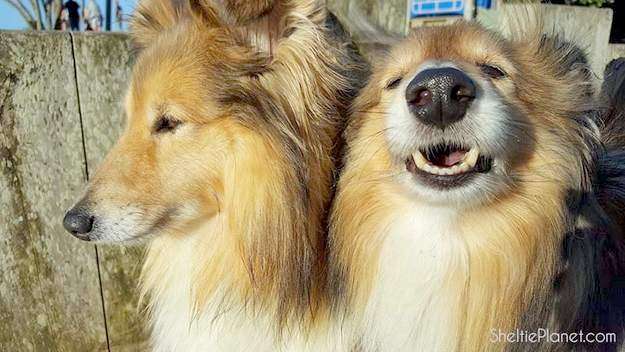 I set my heart on adopting a Sheltie but it turned out they're hard to find in New Zealand. There were no rescues at all.
Eventually, I found a Sheltie breeder in Papakura called Shelton Shelties who happened to be homing a litter of Sheltie puppies the next week. I was over the moon!
But that was short lived - because next the breeder told me that all of those puppies were destined for other homes. People had signed up for them months ago.
Perhaps it just wasn't meant to be...
We had even started looking for a Rough Collie to adopt when I got the call.
It was the Sheltie breeder. One of her buyers had fallen down the stairs and wrecked her ankle. It meant she wasn't ready for a puppy right now.
And just like that, "Toes" was ours if we still wanted him.
That's how we met this gorgeous little guy.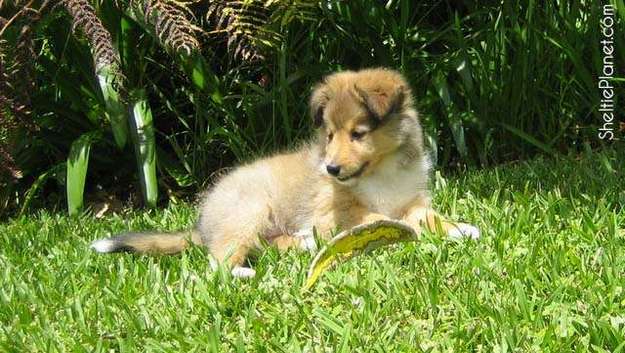 The breeder had nicknamed him Toes because he had little white socks on each paw. Later that day we decided to give him the modest name of Howard Woofington Moon.
Howard didn't leave my side for the next three days straight. He was clearly a scared and vulnerable little puppy having been parted from his litter.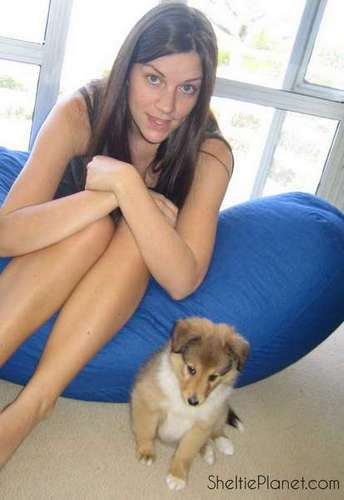 I stayed with him day and night, and as he settled in he started to grow bold and curious in nature.
Howard trotted around exploring his new house and all its strange objects.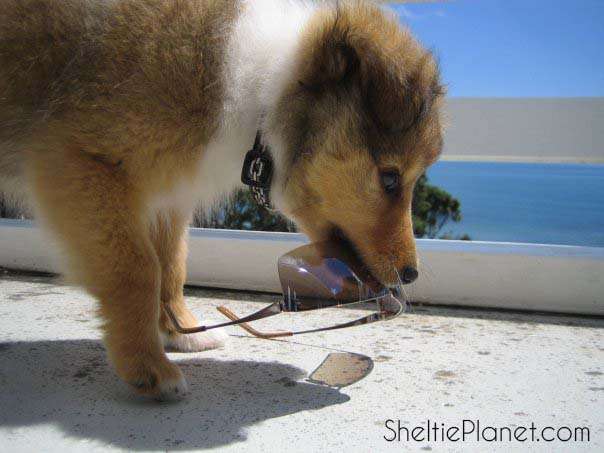 He played with lemons in the garden, pulling them off the tree.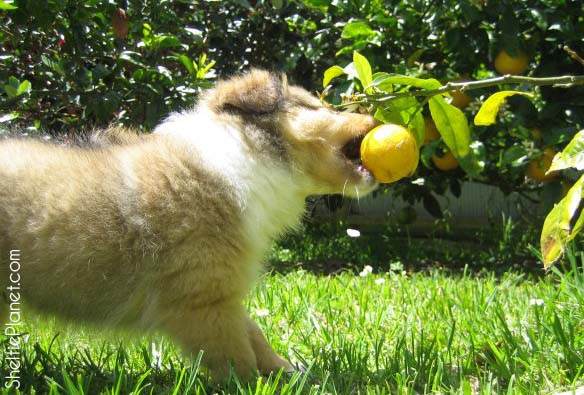 And he met lots of new people. Everyone wanted to meet our new Sheltie puppy.
Soon, we started taking Howard for daily walks along the beach. Even as a tiny puppy, he loved to bound up to much bigger dogs. And he didn't hesitate to run up to strangers to say hello. This was definitely not the shy Sheltie that is common for this breed.
Howard Gets Bigger
Howard rapidly grew into a very confident adult Sheltie. By one year old, he was full size. Check out these photos of puppies growing up to see the transition in detail.
Today, Howard is 11 years old. It's shocking how time flies. Of course, I still think of him as my cheeky little Sheltie puppy.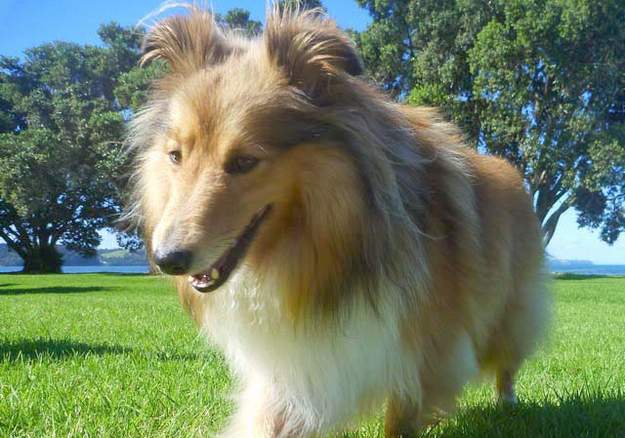 Along Came Piper
Back when Howard was nine months old, I emailed his breeder with some up-to-date photos. I mentioned in passing that we would love to have another Sheltie some day.
I didn't expect her to call five minutes later and offer us Howard's brother.
I learned that the breeder had reserved one of her puppies to be a show dog. He was extremely eager to please but also extremely nervous, which is not unusual to see in Shelties.
Piper wasn't going to handle the show dog lifestyle at all. He needed a loving family where he could feel secure. Who better to live with than his brother?
We mulled it over but deep down we already knew the answer... Of course we would take another Sheltie!
The Day We Met Piper
Since they were half brothers, I was expecting to meet a dog very similar to Howard Woofington Moon. I had a vision of him looking just like Howard but in denim dungarees for some unfathomable reason.
But the moment I laid eyes on Piper, I realized he was completely different to our bold and confident boy.
When Piper caught sight of us, he crouched into a tiny ball like a hedgehog. Terrified and anxious, he tried to melt himself into the grass so we wouldn't see him.
Here he is a little later, having developed the confidence to sit up.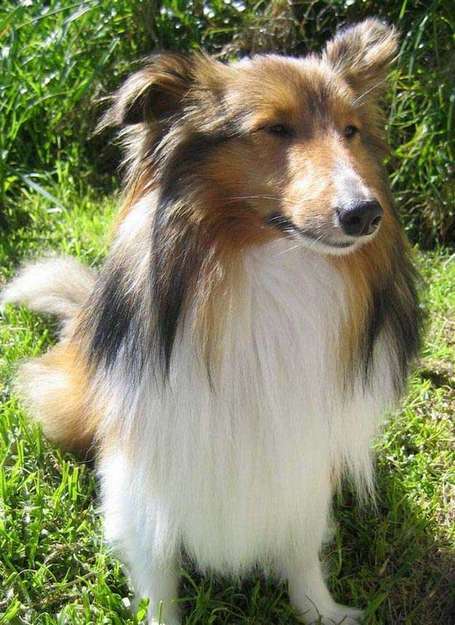 Howard, on the other hand, was busy peeing on the breeder's foot.
We introduced the boys and they sniffed at each other curiously. There was no growling, just some pricked ears and high tails while they sniffed each other's faces and butts. From then we knew they'd get along.
We took a tour of the Sheltie kennels and met their father, Storm, who looked strikingly like Howard.
We met a dozen other beautiful Shelties that day. By then I was Sheltie obsessed and it was a huge treat to meet so many Shetland Sheepdogs.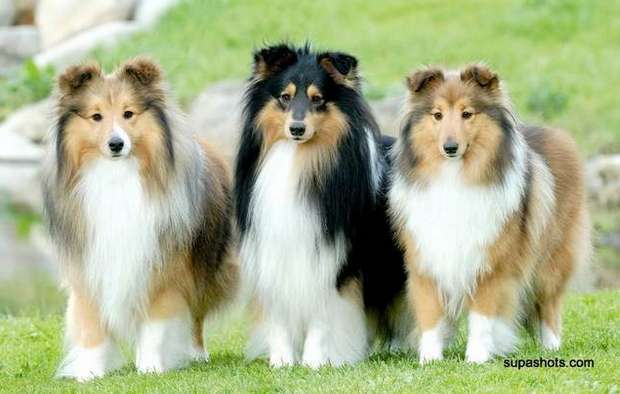 The journey home was scary for Piper.
He sat tensed up and scared on my lap. He threw up twice. I did everything I could to reassure him. I wished he could have understood. But he was just so scared of everything.
Life got a lot better for Piper after that.
Reunited with his brother, he settled in to his new home. The timid little guy found his voice too. If someone asks Are Shelties Barkers? I just point to Piper.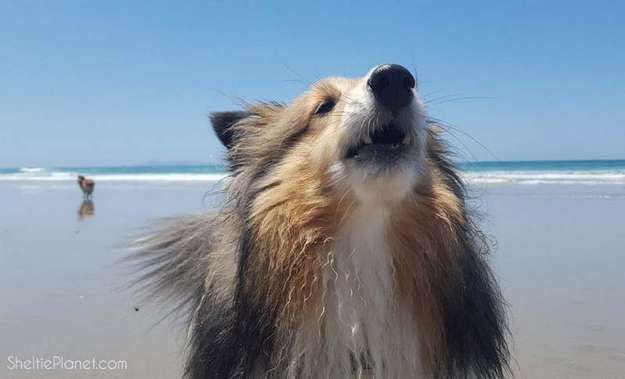 Piper also has a gorgeous habit of howling like a baby wolf when the answer machine goes off.
Sometimes we go on a big hike into the forest and start howling so Howard and Piper can go for it. It's a really great feeling when we all howl together!
Piper looks so confident these days compared to our first meeting, when his whole world changed.
This is us now.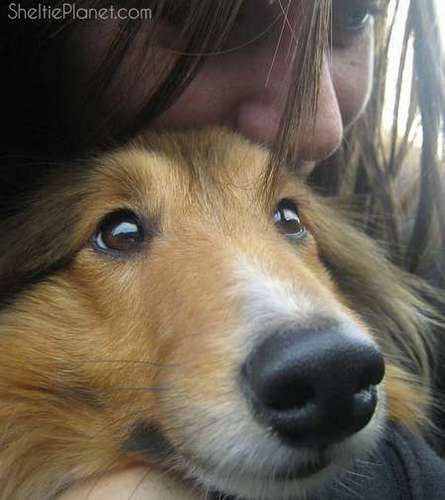 Piper is also the perfect lap dog. You only need to make eye contact across the room and he'll immediately sit up, ears pricked, tail wagging, waiting for you to invite him up.
Life with two Shelties is great.
Because I work from home they're rarely alone, which suits sensitive dogs like Shelties.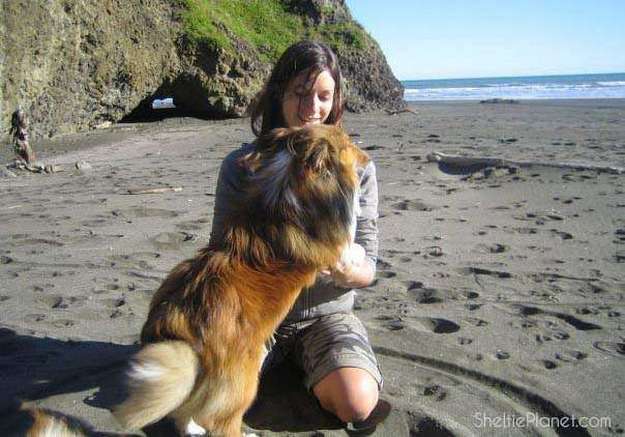 They also love to play together.
Howard and Piper excel at teamwork. Piper uses his nose to open underwear and sock drawers, and Howard uses his teeth to displace the contents around the house.
It's not unusual for visitors to see Howard proudly trotting into the living room with my underpants in his mouth.
But they are good dogs really. Especially when liver treats are involved.
And that's life with our Shelties. We wouldn't change a thing.