Finn and Polly - Happy at Last
My daughters were so excited when I made the decision to get a dog, we wasted no time go to Shenton Park Dog Refuge. By Judith Bluhm-Brown.
About this time last year, I decided that it was time for us to get a dog. My two daughters were so excited that I finally made this decision, we wasted no time go to Shenton Park Dog Refuge here in Perth, Western Australia. This is a very good refuge for dogs that will home or foster out dogs - they do not put them down no matter how long a dog has been there.
Well, we looked at several dogs and then I saw these two sweet faced Shelties in one of the pens. While all the other dogs were barking for our attention, they sat quietly by the gate and let me stroke them. I have always loved the breed but these two came as a set - they had been found wandering together and the shelter would not separate them. I thought they were so sweet but I only came for one dog, not two.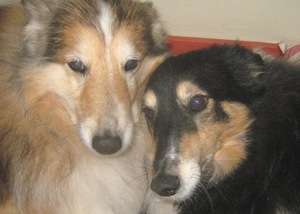 We went home but I couldn't get these two beauties off my mind. I thought maybe having two dogs would be good because they could keep each other company while I'm at work and the girls are at school. So the next day we went back to the shelter and adopted them.
They bring such joy to my life and are good company on weekends when my girls are at their dad's. I enjoy grooming them - its almost meditative. I can't be happier that these two sweethearts will see their latter years in spoiled comfort.
By Judith Bluhm-Brown