Coco Sheltie's Guest Blog - September
Welcome to Coco Sheltie's guest blog for September. Here Coco shares her favorite funny dog photos and her canine musings.
September 1 - When I was having a morning nap I heard Mummy cleaning the shower room and the bathroom. OH MY GOD!! I must go!! I cannot miss any opportunities to bark at the light pull string and the moment mummy flashes the toilets!! I barked and ran around a lot. Our neighbours might have been annoyed... But there are lots of exciting things in the bathroom area and I cannot help it!! Mummy and daddy always ask me the reason. Why don't they understand???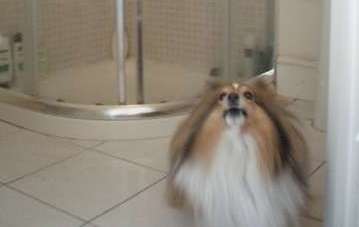 September 2 - I went to Staines with mummy and nanny today. We walked along the river and went to the town centre. When I go there with mummy and daddy we always go to Costa coffee and sit outside. I know this because I am a clever girl. So I led mummy and nanny to Costa coffee. I was half running to get a nice table for them. But mummy said we wouldn't sit there today. I was very disappointed.
When we were waiting for the train to go home a nice lady talked to me and stroked me. Actually she was the 5th or 6th person who admired me today. Mummy's face was beaming because she was very proud of me.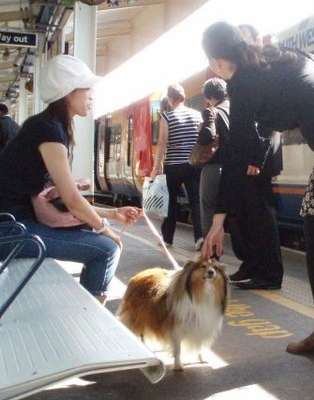 September 7 - I'm on holiday at the moment in the Lake District with my mummy, daddy & nanny. I haven't posted for a few days because there was no available wi-fi connection. Yesterday I climbed this mountain (The Old Man of Coniston), it was easy but it seems everyone else is tired. Today I am going to see Peter Rabbit, do you think he will be my Facebook friend?
September 7 - This is a photo of me and my new friend Peter Rabbit, I met him in Keswick in the Lake District. It was raining so I could wear my new dragon coat, do you like it ?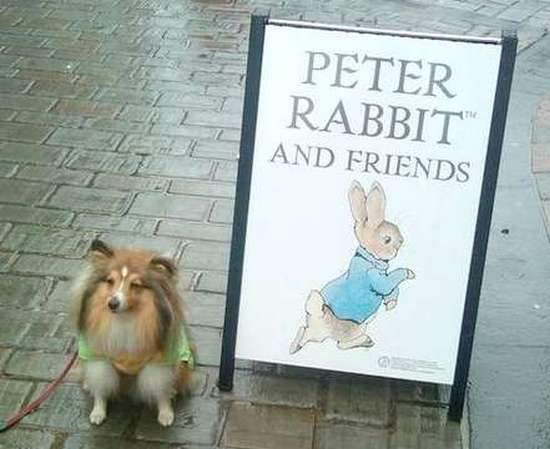 September 12 - My mummy, daddy & nanny took me to Aira Force waterfall in the Lake District, it was quite scary near that fast flowing water but it was very beautiful there.
September 13 - I went to London with mummy and nanny Masae today.I wanted to go to Bond street with them to pop in my favourite Channel shop. But instead I stayed at nanny Joan's house and had lovely time. We had a nice chat about Lake district and did a bit of walk as well. I like staying at nanny Joan's very much. Can I sleep over when I go there next time?
September 14 - I got new collection of hats today. What do you think? I would love a modelling job if I could because every time I pose for the camera mummy gives me a yummy treat. I will go out for walkies soon.
September 15 - I found nanny's case downstairs. She is going home isn't she? I sensed it so I sat on the case to protest. Nanny gave me some pocket money and told me to be a good girl and get myself some sweets from the corner shop. Every morning I went to nanny's bed and we slept together for a few hours... tomorrow morning I cannot do that. Can I come into your bed, Daddy?
September 16 - In the park I hadn't seen any squirrels for a while, but today I saw them a lot!! When I got to my favourite squirrel area there were about 6 of them and pigeons too!! Everyone was gathering and I was the only doggie there. How good is that!! I barked and ran and ran and ran!!
Everyone ran away at once, but a squirrel came down the tree. We looked at each other for a while... should I have said "Hello?"
Mummy always tells me I have to be quiet because my barking scares them off. But I can't stop barking because it is so much fun!! Can I have one as my pet to play with?
September 17 - I found a pretty jacket and it fits me well. I wanted to go walkies in this jacket, but mummy said it would be difficult to walk. After the walkies I sat in the garden while mummy was weeding. I like sitting there... very relaxing.
September 23 - Recently, when I come across some doggies in the park mummy keeps walking, so I had to deal with them on my own. Somehow I don't feel like snapping at them very much and mummy is very pleased. Not to snap makes mummy happy, doesn't it? But still sometimes I cannot help it...
Anyway mummy keeps walking very quickly so I have to run a lot to catch up and I am knackered... zzzz. But hmmm... being friendly is good isn't it? I feel good today.
September 30 - I decided to cook vegetable soup for Daddy because he has man flu. Mummy told me to wear this hairnet to keep my hair tidy. Sweet potato, leek, mushrooms, etc... and yes! I mustn't forget this. A few pieces of doggie food always makes you feel better. I hope Daddy will like my soup.
About Coco Sheltie
Coco is a sprightly young thing with lots to say about the big wide world. She lives in Staines in the UK with her human family. Aside from being a star model, she enjoys dog shows, agility, dressing up, walkies and Frisbee.