Coco Sheltie's Guest Blog - October
Welcome to Coco Sheltie's guest blog for October. Here Coco shares her favorite funny dog photos and her canine musings.
October 1 - Raining, raining... all day raining. I cannot go out and this is just boring. I sat by the window for a while to see if anything exciting happens but nothing is happening. Even next door's doggies are inside today. I love sitting by the window and looking outside so I want my daddy to build a balcony with a roof for me, please...
October 7 - It was raining this morning so I decided to look through the wardrobe while mummy was out for shopping. Let me see... what shall I try today? This and that and this and that and.... Hmmm...I suppose they are OK, but maybe, Daddy, can you take me out for shopping this weekend? I saw a fabulous harness with ribbons and everything in a magazine the other day.
October 8 - I have friends all over the world now so I looked at the map and studied. So where am I???
OH MY WOOF! I asked mummy where I was and for the first time in my life I discovered how big the globe was. I have plenty of places to go, don't I??? How exciting!! I need a big pink case to put all my dresses, hats and everything. I have to get a passport too. America, Canada, New Zealand, etc... I wish I could join nanny Joan and granddaddy Mick when they go on a cruise next year...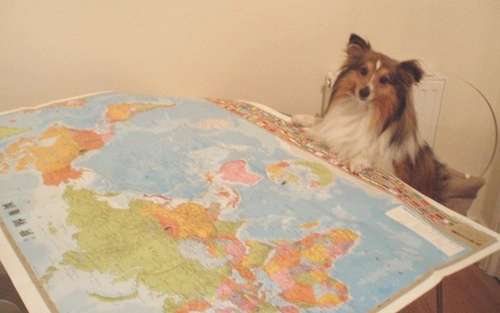 October 9 - Daddy said he would take me shopping this weekend. Yeah!! We went out by car and the place we arrived was... the vet! Why!! Mummy said it was for my booster vaccination. The vet gave me some treats and while I was eating them she stabbed a big needle in me. Is it because of this injection I feel very sleepy?
Zzzzz... mmm? Something smells nice... Yes, it is beef!! Daddy is cooking "Beef, Guinness and Cheddar Cheese stew" and he is cutting the beef. Ohhhhh... it looks yummy... I can have a bit of the beef can't I? Daddy didn't take me shopping, so I deserve it don't I?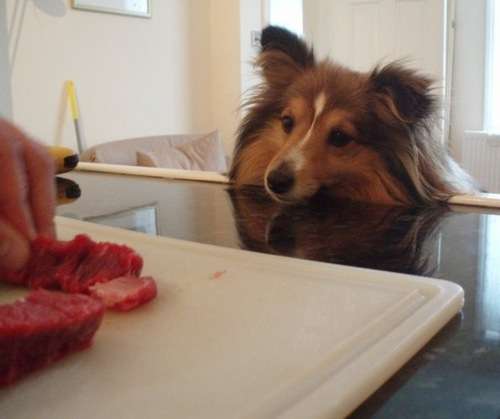 October 10 - Daddy took me and mummy to Polesdon Lacey. I found a pretty lion ornament. Mummy told me to sit down next him so she could take a photo of us. The lion and I were similar in height and I thought I could do an impression of him. We look like twins, don't we? I wanted to take him home but I couldn't. Can you make one for me, Daddy? We did a lot of walking and I saw horses and many sheep. I saw a few doggies too. I said hello nicely without snapping at them. I am quite a sociable doggie now aren't I?
October 11 - Mummy got a parcel from nanny Masae in Japan and I found these sweeties for me. They are my favourite. Thank you, nanny. Don't worry, daddy. You've got a lot of your favourite Japanese sweeties too.
October 14 - This morning mummy and I visited our doggie friend's house. I have been on a the bus with nanny Joan when I was littile but this was my first bus trip with mummy so mummy was very excited. The bus was quite busy. I looked up at mummy and I felt mummy was wishing something like "Coco, don't bark now, please..." I am a good girl so I sat down on the floor and I was very quiet all the way. When I got off the bus an old man tapped me on my head saying "Very quiet and good!" Mummy looked very happy so I was happy too.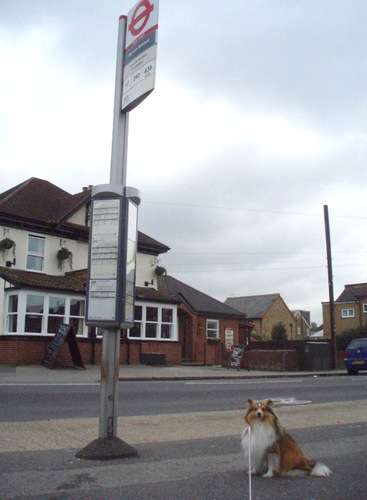 October 15 - When I came downstairs I was startled because the vacuum cleaner was sitting right there. I don't like it because it is horribly noisy and always scares me. I wanted to go to mummy but mummy was on the other side of the vaccum cleaner. It doesn't move on its own does it? Mummy denies it but I think it's alive. Why does mummy uses this scary thing to clean the house? I loved the mop when I was little but never liked the vacuum cleaner.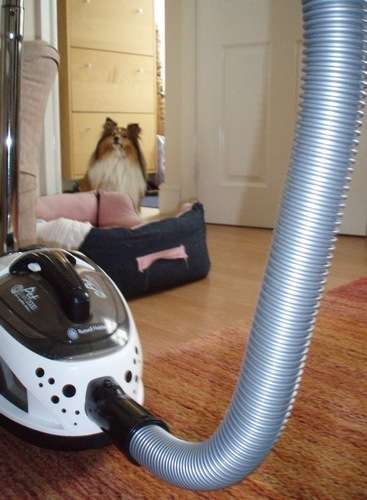 October 21 - Daddy's new photo frame was delivered today in a big box, he is going to put a big photo of me in the photo frame and hang it on the wall. Mummy put me on top of the box at first, she just wanted to have some fun didn't she? But then she put me in the box and I was scared. I thought she would send me somewhere. Mummy gave me a sweetie after. She thinks sweeties make everything OK. I am upset, I am going to ask daddy to tell her not to do such a cruel thing ever again.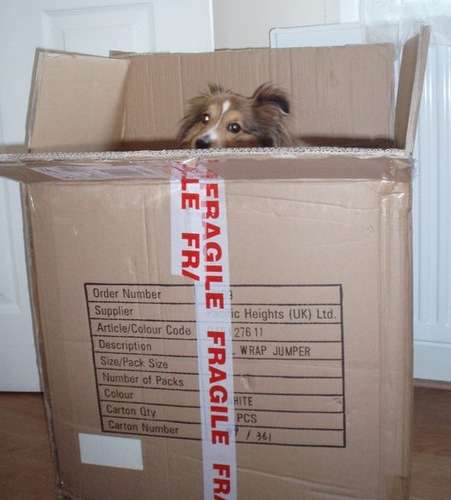 October 21 - I tried mummy's sunglasses. I was going to look like a super model. I thought I looked like Daddy's favourite Kate Moss. But mummy said I looked like a pilot. I do look like a doggie pilot don't I? Like Snoopy sitting on his house wearing his pilot costume.
October 22 - When I was happily walking in the park a big round fluffy sheep dashed for mummy. Mummy didn't know and I wanted to warn her but I was too scared to do anything. Anyway it was Daisy the poodle.
She kept coming a few times and she jumped at mummy too. Mummy was laughing but I couldn't move because she looked even bigger when she was jumping around. I thought I might be squashed if I went near her.
Once Daisy became calmer I showed my "Costume drama - Lady Coco" photo to Daisy and her daddy. Her daddy smiled and said I looked nice but Daisy was indifferent. I think she was jealous. I've known her since she was a puppy but we are so different. Still, I will show her my "Costume drama - Maid" photo next time.
She might like it mightn't she?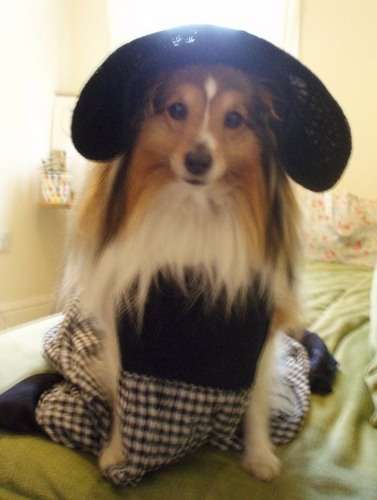 October 23 - I went to Waterloo to see nanny Joan and granddaddy Mick. I like it at their house as they always look after me when my mummy and daddy desert me and go somewhere warm and sunny. I want to go with mummy and daddy but I don't mind because nanny Joan's bedroom is very pretty and girlie. I'm looking forward to sleeping there.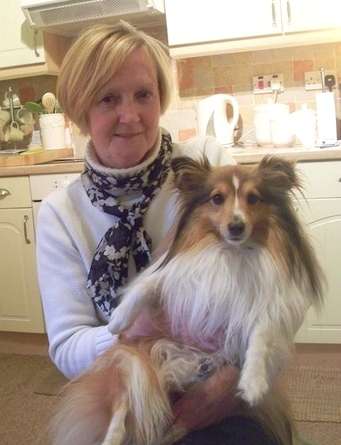 October 26 - I met Daisy but she was not well and her daddy said we couldn't walk together. Still I took my "Costume drama - Maid" photo with me so I showed it to her. She looked interested in the costume a bit so I asked her if she wanted to try my costume. She said she would think about it and then we said bye-bye.
Hmmm... she is a standard poodle so my maid costume would be too tight for her wouldn't it? But she can try my maid cap can't she? Maybe I can have a look in my wardrobe for something bigger for her. Anyway I will wait until she gets better.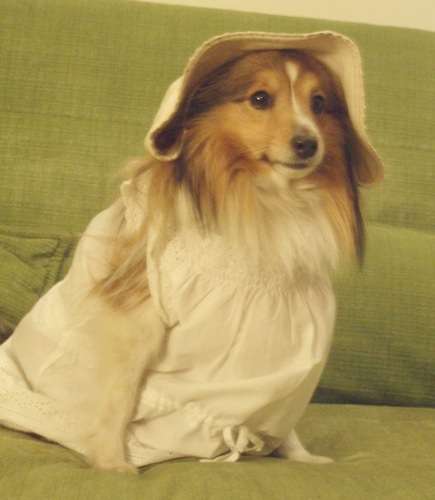 October 27 - While mummy was doing the gardening I wanted to have a sleep in the garden. Mummy kept asking me what I thought about the new Pansies and asking me to help her digging, so I could not sleep. Now mummy is going to the library so I can have a good nap in my bed. Yaaaawn Yaaaawn.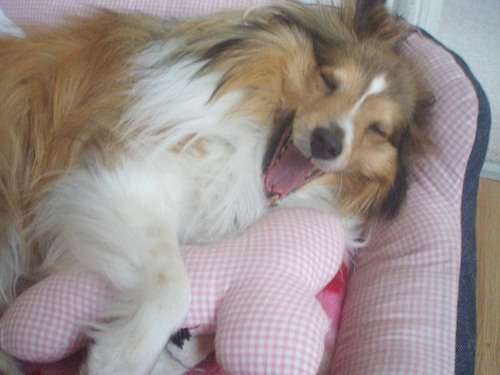 October 29 - I gave a lots of thought to my future career and decided to start jogging. Model, Hollywood star, athlete, therapy dog, dancer, etc... whichever career I choose I should always be fit shouldn't I? I could be a star overnight couldn't I? Anyway I should wear the proper gear for jogging so I looked through my wardrobe while mummy was baking. I chose my most favourite t-shirt and a cap which daddy gave me. How do I look? Perfect for jogging?
I think I can start from something like 10K and increase bit by bit and maybe I can take part in London Marathon and then New York City Marathon and then maybe I might catch some agents' eyes. Having ambition is always important.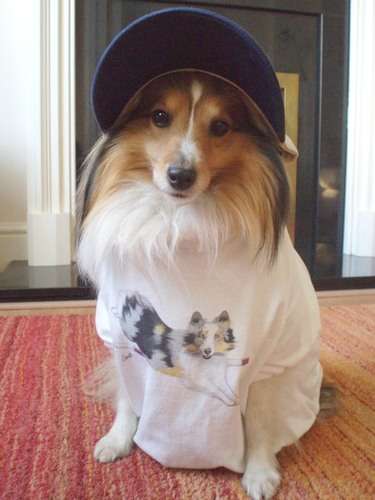 October 30 - Daddy took me to the garden centre today & I could ride in the trolley. The trolley said 'strictly no children can ride on this trolley' but I could, Ha Ha Ha!!! I wish mummy or daddy could take me to a big supermarket or shopping centre, what do they think I am going to do, lick a chicken or eat the sausages, I'm far to grown up now to do that.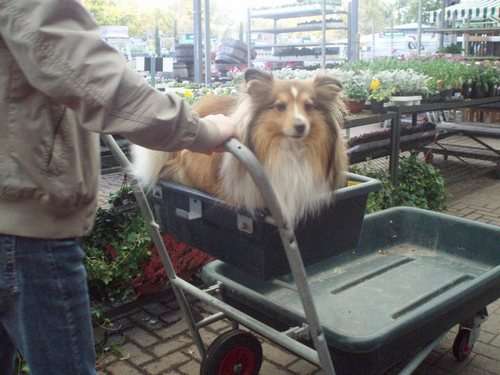 October 31 - Happy Halloween... Today I dressed up in my Halloween witch costume, I've had it since I was a little puppy girl, it was a present from the girl next door. My daddy says I should get a new outfit but I saw him looking on the internet at dinosaur outfits but I want something cooler than that. What do you think?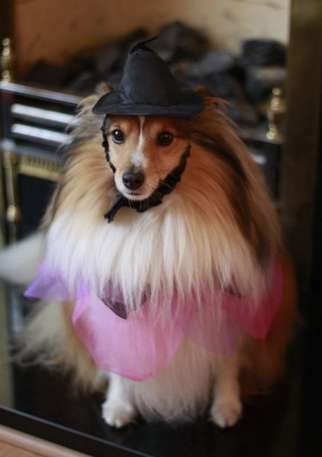 About Coco Sheltie
Coco is a sprightly young thing with lots to say about the big wide world. She lives in Staines in the UK with her human family. Aside from being a star model, she enjoys dog shows, agility, dressing up, walkies and Frisbee.