Coco Sheltie's Guest Blog - November
Welcome to Coco Sheltie's guest blog for November. Here Coco shares her favorite funny dog photos and her canine musings.
November 3 - I had to go the the vet today because I have been limping occasionally for the past few weeks. The vet told me that I have to rest for the next 2 weeks with only short walkies. That nice vet gave me a box of sweeties and she told me to eat one before dinner every day. She is nice that vet.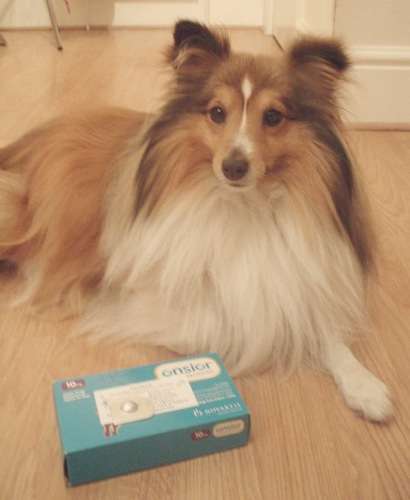 November 5 - Mummy took me to the green patch and then we did some training. Mummy wanted to do "Get it and put it back" but I was not really in the mood for it. So we decided to do some basic training.
I walked backwards and did the "leave it" command too. While training I barked at mummy. I shouldn't have but the weather was nice today and yet I couldn't go to the park so I was irritated.
The tiny little sweetie ball the vet gave me is very tasty. Do you want some, daddy?
November 6 - It is dull and dark isn't it? I have been inside almost all day. How boring... I might get depression. When mummy took me to the green patch it started raining a little. It wasn't proper rain for which I should wear my green dragon raincoat. If I had a hoodie jacket to cover my hair it would be convenient. Yes!! Why don't I dress myself up to cheer myself up? Hoodie, hoodie, hoodie... I'm sure I have a hoodie in my wardrobe. Oh, here it is. Hmmm... it is OK but it will be cold and wet soon so I should get warm hoodie coat with fluffy fake fur around it.
November 7 - I had nice Sunday today. The first thing is that daddy took me to the park by car. I wasn't allowed to chase any squirrels or pigeons and we did only a short walk there but still I enjoyed it a lot.
The other thing is that when someone ding-donged the doorbell. Mummy thought it was a delivery man for her, but then mummy called me saying "Coco!! You have a visitor!!" It was my favourite old lady and she came around to see how I was. How nice!! She is always nice to me and when I was a little puppy girl she even invited me for a cup of tea.
Oh! Talking of tea, I wonder if daddy will take me to a proper English Afternoon tea one day? Then I should prepare a very elegant dress and a hat for the day.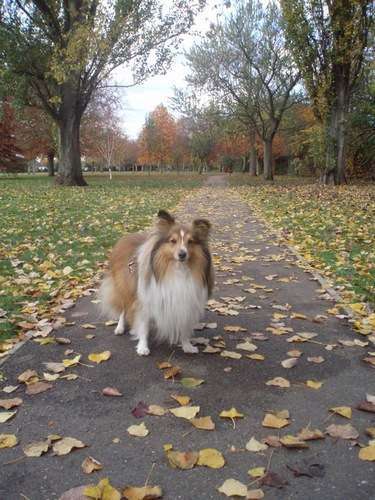 November 11 - The post man ding-donged the doorbell and he had a big envelope for me. It was addressed to daddy and ME! Yes, it was from 4 leggedlondon.com!! It was a bag of doggie swag which they promised me!!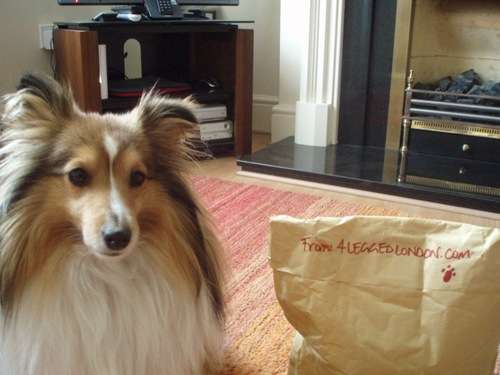 November 13 - I am really fed up with this short walk just around the block every day. My legs are much better now aren't they? I want to go hiking. I want to go somewhere natural!! Somewhere I can run about!! Anyway, what will tomorrow's weather be like? Let's have a look on the computer.... Woooof!! It will be sunny tomorrow! I have to persuade mummy and daddy. What should I do? Well, maybe If I am all set for the hiking they will say OK won't they?
November 14 - I've been enjoying writing my dog blog on Facebook very much. Especially when I read all those comments from my Facebook friends I am very happy and I like them a lot!
About Coco Sheltie
Coco is a sprightly young thing with lots to say about the big wide world. She lives in Staines in the UK with her human family. Aside from being a star model, she enjoys dog shows, agility, dressing up, walkies and Frisbee.