Coco Sheltie's Guest Blog - August
Welcome to Coco Sheltie's guest blog for August. Here Coco shares her favorite funny dog photos and her canine musings.
August 23 - Rainy day. When we left the park it started raining. Mummy had an umbrella but I was outside of it. But then the rain got heavier so mummy carried me. Some people were laughing at us but I was comfortable.
August 24 - Mummy took me to the park to see Katy the Sheltie puppy. She was very lively and as soon as she saw me she ran to me and tried to play with me. Mummy told me to be gentle but I couldn't. I snapped at her a few times because she kept coming back to me and at last I snapped at her quite badly... after this she didn't come to me. I was not very good girl in the park today and felt a bit guilty. But mummy put my favorite toys in my bed with me so I can have a nap now... with a peaceful mind.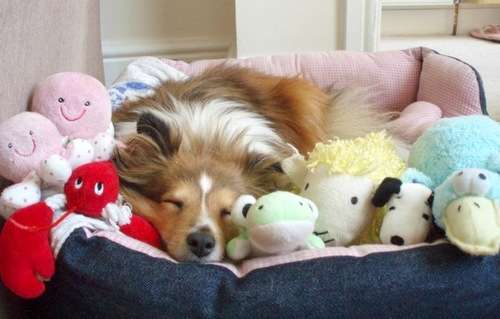 August 25 - In the park I played with the Frisbee with mummy and I enjoyed it very much. I strolled in the park, looked for pigeons and squirrels, had a bit of rest and got very gentle pat from a couple. When mummy and I were about to leave the park mummy saw Katy and her mummy coming. I wanted to go home but mummy told me to say hello. I tried to be nice but when it got too much I snapped at Katy again and she cried... mummy told me off. There were more doggies in the park by this time and I snapped at a few doggies while we were walking with Katy. Mummy said "Nobody likes you if you are like that." Mummy is cruel isn't she... Still I know mummy loves me because she stroked me a lot and kissed my head when we left the park.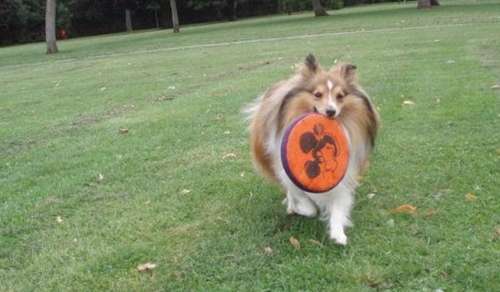 August 26 - I didn't want to go to the park today because I thought mummy might tell me off again. But mummy came to my room and told me to get ready for walkies. Mummy said I would enjoy the park today but I couldn't believe her. I really didn't want to go... But anyway mummy took me there so I tried to be a good girl and followed mummy like doing heel walk.
In the park I found Bailey so I went to him to say hello. And then I saw Heimish so I said hello to him as well and we walked together. While I was walking with Heimish, I saw Daisy, Oscar, Toddy and an old doggie I had met on the street. I said hello to everyone and had a nice chat about weather, plans for Bank holiday and all that. I chased pigeons too!!
Mummy was right. I enjoyed the park today.
August 27 - It was wet this morning so I stayed inside and updated my Facebook page. Let's have a look... Woof!! I've got 177 friends, Daddy!!
Daddy only has a few friends and mummy doesn't even have Facebook page, does she? Maybe I should teach mummy how to do this and then mummy and daddy might get me a new laptop for my Christmas present. Hmmm... but I want a new Nylabone too. I wonder if they will give me both... do I have to choose???
August 28 - My daddy wasn't working today so he took me and mummy to Virginia Water, I like it there as I am allowed to enter the shop & the terrace of the cafe. Why do so many places ban dogs? My mummy and daddy said that they would like to live in France or Spain where they could take me to many more places.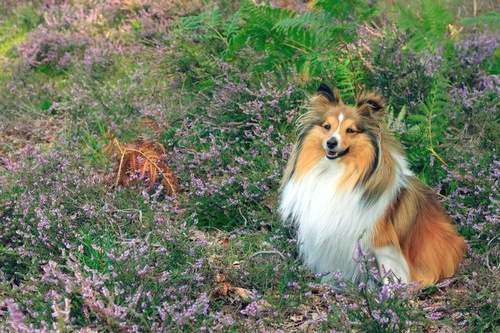 August 31 - I went shopping with mummy to get my dog food. The man in the shop gave me a biscuit but I didn't like it. Mummy said it was rude of me but he gave me a better one and it was yummy. Sometimes people give me treats but I always have tasty treat such as homemade lambs liver cake so normal ones are so bland for me...
After shopping I spent a bit of time in the garden. What a lovely day it was! The air smelt so fresh!! I found a toilet roll this morning so I got it!! Tearing that paper always makes me feel very excited.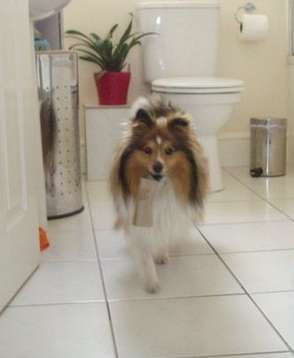 About Coco Sheltie
Coco is a sprightly young thing with lots to say about the big wide world. She lives in Staines in the UK with her human family. Aside from being a star model, she enjoys dog shows, agility, dressing up, walkies and Frisbee.