The Best Dog Brushes for Shelties
Written by
Becky Casale
Download her
Sheltie Anthology
There are more than 500 different dog brushes on the US market. Some of them are made by flagship brands like GoPets, FURminator, Hertzko and Pet Portal. But many of them are cheap knock-offs with no quality control and sometimes even dangerous design features.
Grooming your Sheltie is an essential part of dog maintenance. But given how many different grooming tools are on the market, it can be overwhelming to figure out the best dog brush for your pooch. Here are the top four dog brushes we recommend, followed by our full reviews.
Best Undercoat Rakes (for De-Fluffing)
Best Slicker Brushes (for Finishing)
To find the best grooming tools for Shelties, we analyzed the features, claims and user experiences of high-performing undercoat rakes (for the fluff that gets everywhere) and slicker brushes (for the hairy outer coat). Both of these brush types are essential for grooming your Sheltie. We then ranked the best dog brushes for double coated, long hair breeds.
The Best Dog Brushes for Deshedding The Undercoat
Grooming double-coated breeds like Shelties must begin with stripping out the woolly undercoat. If you ignore this stage you'll notice a lot of fluffy dog fur accumulating around your house. You'll even see it hanging off your dog in chunky little darts. A high quality undercoat rake or de-shedding tool will be durable enough to last the life of your dog.
This is a professional grade brush for extracting the fluffy undercoat, which is what otherwise ends up on your floor and furniture. The FURminator reduces loose hair from shedding up to 90 percent with regular use (1-2 times weekly for 10-20 minutes) and helps keep the keep the coat dirt and debris-free.
This grooming brush is designed with stainless steel teeth to reach through the outer coat and remove loose undercoat hair. The ergonomic handle makes grooming easy, and the FURejector button releases hair from the brush. It's highly effective on long haired, double coated breeds like the Husky, Chow Chow, Corgi, German Shepherd, Collie, Leonberger and of course, Shetland Sheepdog.
It's important that you use the FURminator regularly on dogs with thick double coats. Especially at times of high shedding, such as right before summer when your dog sheds his winter coat. Females shed more often, after every heat cycle if they haven't been spayed, so will require more work than males. Of course, spaying your Sheltie will help and is widely recommended by vets.
Standard brushing is not the same as undercoat de-shedding. The FURminator undercoat de-shedding tool removes significantly more loose hair than a standard brush. Undercoat de-shedding removes most loose hair and fluff before your Sheltie has a chance to shed it around the house.
Don't use the FURminator on sensitive areas with wispy undercoat, such as directly behind the ears, under the arm pits, and on the belly. Use a standard brush or comb and be extra gentle on these tangle-prone areas.
FURminator has a full line of dog grooming tools, shampoos, conditioners and sprays to equip you for all steps of the grooming process. For most Shelties, I recommend the FURminator Undercoat Deshedding Tool for Small Dogs (under 25 lbs). If your Sheltie is large, select the FURminator Undercoat Deshedding Tool for Medium Dogs (25-50 lbs).
---
This double sided pet comb has a different number of teeth on each side. The higher density side (23 teeth) is for general de-shedding, de-tangling and undercoat combing. The lower density side (12 teeth) is for de-matting stubborn knots and tangles.
The GoPets Dematting Comb is a one-size-fits-all dog brush, suitable for dogs and cats of all sizes. The 2.25 inch (5.7cm) width makes it an effective de-shedder of single and double coats, and medium or long haired breeds.
Sharp stainless steel blades cut through knotted mats and tangles instead of simply ripping the hair out when it meets resistance. However, all the teeth have dull rounded ends so the steel can neither scratch nor irritate your dog's skin.
Each tooth is sharpened to help cut tangles and reduce pulling and tugging on the hair. With tough tangles, simply hold the hair at the base and comb it out using short strokes. For best comfort, work from the tip of the hair and gradually move your start point toward the base.
The handle is filled with non-toxic silicone gel, similar to that used in medical implants, making it easy to hold. Every purchase of the GoPets Dematting Comb sees a portion of the profits donated to animal charities, no-kill shelters and animal rescues.
The Best Dogs Brushes for Finishing The Outer Coat
Once you've thoroughly worked the loose undercoat, it's time to switch to a slicker brush to finish the outer coat. The best dog brushes for this job are very affordable and dog can really enjoy this phase of the grooming too. Slicker brushes, or pin brushes as they're also known, are more like our human hair brushes and gently stimulate blood flow under the skin.
Hertzko set out to design the easiest-to-clean slicker brush that pet owners have ever seen. Grooming your best friend shouldn't be a shore and with a retractable bristle system, clean-up takes just a few seconds. No more digging your nails into the bristles to retrieve that wad of Sheltie fur and accumulated gunk.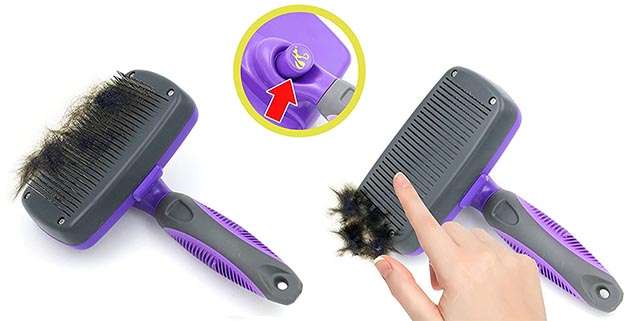 This is an excellent finishing brush to de-tangle and smooth out your Sheltie's top coat. The bristles are fine bent wires designed to penetrate thicker coats and will reach into the undercoat too. However it's main purpose in finishing your Sheltie's outer coat is to extract trapped food and dirt and remove tangles.
Brushing your dog with broken or bent bristles can be incredibly painful for them. Thankfully, Hertzko has solved that problem. By having retractable bristles when the brush is being stored, they can't be damaged in between uses. It ensures your dog will always be brushed with straight bristles and enjoy a pleasant grooming experience.
Your dog will not only look good but feel good too. The Hertzko Slicker Brush grooms and massages for a healthy coat, increasing blood circulation and distributing the coat's natural oils. This leaves the coat soft and shiny.
When you're done brushing your dog, click the button and bristles retract back into the brush. This makes it easy to remove all the hair by swiping your finger across the smooth panel and collecting the residue fur. The Hertzko Self Cleaning Slicker Brush also wins Amazon's Best Choice Award.
---
Here's a larger self cleaning slicker brush from Pet Portal at 3.75 inches (9.5 cm) wide for small to medium dog breeds. Rated among the best dog brushes on Amazon, it provides both dogs and their owners with an easy, comfortable and enjoyable grooming experience.
This finishing brush effectively remove mats, tangles, dirt and loose fur from your dog's outer coat with minimal fuss. It easily gets through the thickest double coats which is a top priority for Sheltie owners. However it's geared towards long haired and short haired dogs, cats, puppies and kittens.
The Pet Portal Self Cleaning Slicker Pro brush is gentle on your dog's skin with soft and flexible bristles that won't claw or scratch. The result is a soft and shiny coat with proper blood circulation for your dog.
It also features a button which retracts the stainless steel bristles so you can swipe away the debris. It's proven long lasting with a comfortable and soft anti-slip handle and has been tested and proven by pet owners and professional pet groomers alike.
This slicker brush for dogs and cats comes in small, medium and large sizes (we've featured the brush for small to medium sized dog breeds) and two color combinations (blue/white or black/green). The Pet Portal Self Cleaning Slicker Pro comes with a free dog grooming guide and a lifetime full money back guarantee from the manufacturer.
When to Groom and Bathe Your Dog
Dog grooming experts recommend you perform a three-part grooming routine:
DAILY = Run a slicker brush over the outer coat to de-tangle and smooth the top layers of hair.
WEEKLY = De-shed with an undercoat rake to strip out fluff from the undercoat.
MONTHLY = Clip nails and bathe with dog shampoo to clean and deodorize.
We find you can defer part 3 for longer than a month if you choose. Shelties generally aren't the kind of dogs to roll around in poop and other nasty smells. Plus, they like to keep themselves very clean by licking their fur when they come back from a walk. So it's fine if you want to forego the monthly bath and let their coat's natural oils do the cleaning.
Useful Accessories
We find it very useful to have a fine-toothed comb on hand like this Safari Flea Dog Comb. Use it to de-tangle sensitive areas like behind the ears, under the arms and legs, and along the belly. Sometimes it's just easier to pick out mats and knots with a smaller, precision comb than try to rake it out.
Recommended by professional groomers, the unique double row design is suited to all dog breeds and coat types. The Safari Dog Flea Comb can also be used to check for fleas, flea eggs, and dry skin in the early stages so you can treat your dog with an appropriate shampoo.
---
This oatmeal formula dog shampoo is pH balanced, alcohol free, paraben free and PEG-80 free. It's recommended for moisturizing dry skin and providing itch relief. The coconut lime verbena scented shampoo makes a thick lather which rinses off clean and keeps your pooch smelling delicious.
Wahl dog shampoo has a higher concentrate of coconut derived sodding agent, which means you don't have to use as much as other dog shampoos. A little bit of shampoo goes a long way. Wahl Oatmeal Formula Shampoo Concentrate has been serving professional vets and groomers for 50 years.
Browse more of the best dog brushes on Amazon